About School
---

---
Our credo:
"First-rate equipment, constant modernising and possibly the best schooling leads to the success of your children."
From the history of the school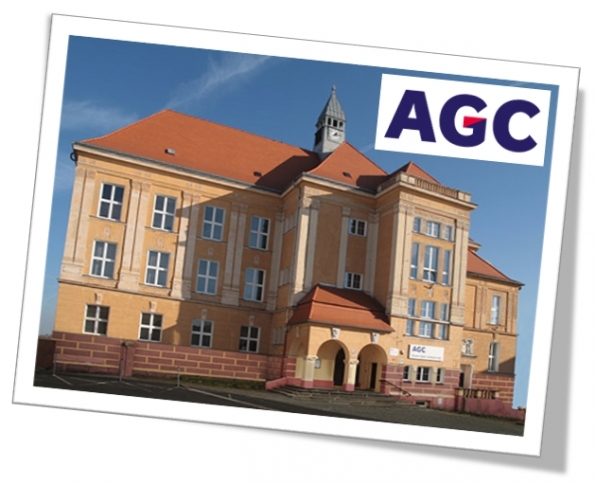 The vocational school was founded in 1949 as the vocational glass school of the glass factory Inwald in Dubi, later called national Company - Container and Pressed Glass. In 1964, the vocational school was merged with another vocational school of the National Company - Flat Glass and the new Vocational School of Sklo Union, Glass Company in Teplice was founded. Until 1988 the school was located in the former Labour House in Teplice - Trnovany. The vocational school was directed and governed by the state company Sklo Union at first, later by Sklotas, then again by Sklo Union and after that by Glavunion - Teplice. On the 1st July 1991 the Glavunion secondary Vocational School of the Glass Industry, a joint stock company, was established as a private school. In October 1995 the Secondary Technical School was established as a part of the vocational school. On the 1st of January 1996 the school was given a new name, The Secondary Technical School and Secondary Vocational School of the Glass Industry, Glaverbel Czech, joint stock company. Within the last ten years there have been 120 - 170 graduates per year. Since its beginning, the school has prepared 7,800 workers in total. The greatest development has been carried out since 1988 when the school was removed to the former primary school in Teplice - Retenice, in Roosevelt Square. In recent years, school attendance is about 300 students per year.
Nowadays the school has been fitted with modern equipment and facilites - four modern computer labs, three fitted labs for administration, a few modern labs and workshops (for electronics, low voltage electrical engineering, engineering, IT, pneumatics), language labs, a fitness centre, etc.
Since the 1st of September 2007 the school was given the name Secondary Technical School AGC a.s. (AGC means Asahi Glass Company and this firm is the largest producer of flat glass in the world).
Studies at the Secondary School AGC a.s.
4 year programmes  - with a graduation certificate (school leaving exam)
Information technology - application of personal computers
Mechanic electrotechnician - electrician robotics
Economics and entrepreneurship 
Pre-school and extra-curricular pedagogy
3 year apprentice programmes - with a final exam
Distance learning programmes
Pre-school and extra-curricular pedagogy – shortened distance learning (2 years) for graduated students
Electrician – shortened distance learning (1 year) for graduated students
International cooperation 
The school´s international cooperation has continuously developed since about 1992. At first, there were activities developed with German educational centres InterDACT Freiberg and Brand Erbisdorf, then with Saxonia Halsbrücke and KAS Köningsbrück. The cooperation with Danish centres AOF Nykobing and AOF Vordinborg started in 1994 and with other schools Naestved and Koge Business College in 1995.
The activities concerning Leonardo da Vinci projects have been extended since 1997. These are the activities for Ireland - Waterford Crystal, Waterford TI, England - Wedgwood and Stafforshire University, Swedish Nybro and FHTW Berlin. Student and teacher exchanges have been opened with German ABW Angermünde and CFBA Chemnitz. The school has also developed new contacts with German schools in Zwickau – Volkswagen Bildungs Institut and Benedict school Zwickau, with Danish colleges in Slagelsee, Swedish Haganaskollan Almhult and De la Gardien Skolan Lidköping, the French university UIV Aix en Provence, a Lithuanian High School in Vilnius and the Norwegian schools GVS Fredrikstad, GVS Gjovik, RVS Raufoss. In the framework of the network INCONET cooperation has been extended to schools in Poland – ZDZ Gorzow and Hungarian school AGKS Miskolc. Newly we have begun contacts with FFU Chemnitz, Fortis Academy Chemnitz in Germany, Lithuanian Centre Visaginas, Slovakian OA Stará Lubovňa and High Technical Institute in Bor in Russia. And this is not even a full list of our international activities. This is one of many benefits sudents receive at our school.
---
Contact
Phone: +420 417 53 83 57
E-mail.: info@skola-agc.cz